Our focus is to design fitness programs with purpose and to manage injury risk. Every program, every workout, and every exercise should be designed to promote strength, power/agility, core stability, improved mobility and cardio conditioning. We do not believe in asking clients to do mindless exercises simply to fill up an hour or to give them a "butt-kicking" workout that leaves them exhausted for the  rest of the day.
Every workout should be a net positive in terms of better health and fitness for our clients.  If the workout is not challenging enough, then you will not make improvements.  If the workout is too difficult and risky, then you will get injuries, setbacks, and feel drained. At ThriveFit, we strive to find the perfect amount of fitness programming for each client.
To truly THRIVE, humans need to be MOVING. Frequent and diverse movements act as a lube for our human machine that keeps our shoulders, hips, ankles, and knees functionally strong and mobile. The human body was designed to walk, crawl, run, skip, bend, lift, etc. If we keep doing these movements, we will maintain our fitness longer.
Modern life has introduced a new set of challenges. We sit too much, we eat too many calories, we are overstressed and under-rested. People are looking for artificial solutions in the form of medications, supplements, or the latest diet of the month.
ThriveFit exists to provide a movement-based fitness program that gets people back to the basics of exercise. No fancy machines to lean on; just our bodies and a few simple exercise tools to use. We believe that a good fitness program should include all of the basic life movements that make us human.  We should be squatting, lunging, lifting, pushing, pulling, throwing, walking/running, and jumping. If we stop challenging our fitness and performing basic movements, then we gradually lose functionality and decline faster.  In other words, we stop THRIVING.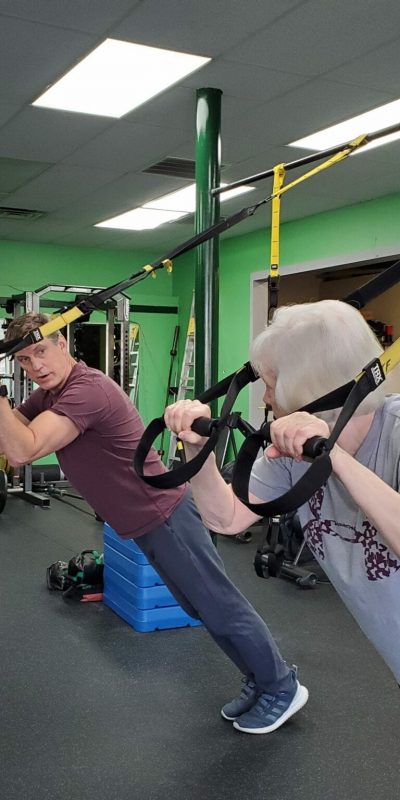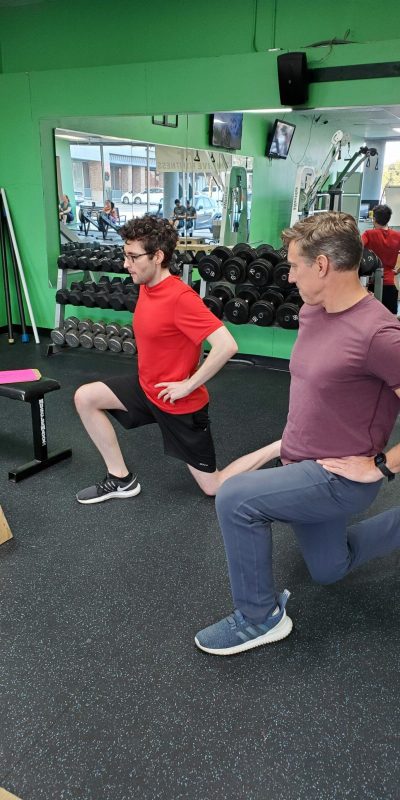 Key Features of our Approach
We believe that a fitness program must be customized based on a person's ability, lifestyle, age, health history, and general goals. 
Exercises need to be prescribed that a client can perform pain free and with good range of motion and posture. 
Our exercise program is not a quick fix. To get long term benefits, we need consistency over a period of many months.
We focus on teaching proper exercise technique and a Quality instead of Quantity approach. We prefer clients do fewer "perfect" reps instead of chasing a number with bad form.
We do not believe in the bootcamp/crossfit approach of doing too much high intensity exercise. We strive for about a 70/30 blend of moderate to high intensity time exercising. This is better for client wellness and sticking with a program.
We strive to program movements that are lower in risk, yet high in rewards for client fitness. There are some exercises that are potentially great, but pose too much risk to program for some individuals. There is no sense in rushing to get quick results for a client when it means ignoring risk.
It is much easier to "succeed" with fitness when you have the support of a coach and team members. We exercise in small groups because it creates a positive and fun environment.
"You play like you practice."  If you exercise with great posture and great technique, you will move better and more pain free in your daily life. What we teach at ThriveFit certainly crosses over into everyday life. 
John opened Thrive Fitness when he realized there was a great deal of demand for fitness programs that provide accountability and customization of personal training, but at an affordable price.  He wanted to start a business where every client is treated as a partner and gets results that they desire.
Prior to opening Georgetown Fitness, John held a variety of corporate jobs. He worked as a Quality Engineer and Program Manager at Dell, a Manufacturing Systems Consultant with a small tech company, and was an officer in the US Army at Ft. Hood and in Saudi Arabia. John earned a Bachelor of Science degree at West Point and then an MBA at UT Austin. 
Having experienced the peaks and valleys of both a corporate career and an entrepreneur, John has a unique background to relate to his clients as they make life changes for the better. He understands that to truly thrive, each person has their own unique formula and is able to provide guidance on how to make fitness work for them.
John lives in Austin, TX, where he enjoys live music with his friends and hiking with his faithful dog, Stella. 
A Total Health Solution that Helps You Thrive
A great workout isn't about using a lot of exercise machines to do the work for your body or pushing yourself to a breaking point. It is about focusing with intention on basic life movements and reconnecting with your core and body overall while doing intentionally planned well-rounded exercises.
Numbers That Speak for Themselves
Results you can see and feel on a schedule that works for you.
Having a busy schedule doesn't have to stop you from working out. Our team will design and administer a complete exercise program unique to you that allows you to be efficient with your time. Most of our members are busy professionals, parents, and active seniors with limited time for exercise. We program design, coach, advise, motivate, track progress, and hold our clients accountable so that they see great results, on a schedule that works for them.  
At ThriveFit, we use the latest science and research to develop the most efficient programs for our members. When you become a ThriveFit member, you can be assured that your program will be well thought out and will take into account your unique schedule, health history, and fitness goals. We are constantly evolving and looking for better ways of doing fitness, as we want to give our clients the biggest bang for their buck and time.
"John is all about whole-body fitness: balance, strength, core, stamina, and aerobic conditioning. The workouts are personalized and progressive. I've been with him for over 3 years and have referred quite a few of my patients to him with excellent results."